Today we are heading off on a marvelous journey…. to my Appalachian hometown of Asheville, North Carolina!  I have a suitcase  filled with Fontina cheese and colorful stone ground heirloom polentas.  Speaking of polenta, I found an incredibly cool polenta this week, which I have dubbed grumpy farmer polenta.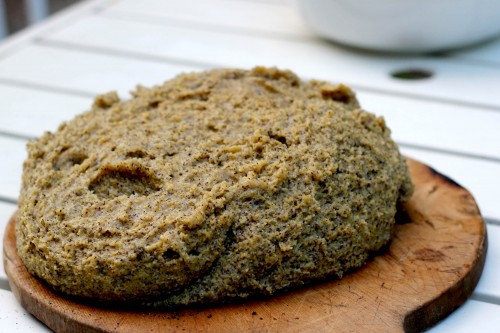 The dairy farmers around here are a bit…well, lets just say they are traditional Alpine mountain folk.  Their cows and cheeses are their entire world, and most of them aren't much interested in anyone or anything outside of that.   You best stay out of their way when they are moving their cows, and be respectful of their land and their hard work.  I must admit I am both fascinated with these farmers and a bit terrified of them.  Our house is attached to a dairy farm run by these sort of farmers, and it took us years to figure out how to not irritate them by just living here.  We aren't exactly best friends with them, but at least they don't shout at us anymore just for living near them!  Lets just say there have been tense moments in the past.
That said, they are grumpy but they are very good at what they do.  These cows are coddled and make delicious milk.  Oftentimes the farmers grow other things on the side. Like corn.  I was on the trail of some rumored red polenta, and I ended up at the 'farm store' for the local Fontina cheese producers.  The lady working there said they didn't sell the polenta I wanted, but one of the farmers who works with the Fontina also grows corn and mills it himself, and she could get me a bag of it.  Apparently he grows old varieties of corn that only grow around here. I asked if I could talk to him, and she said no, he was one of those mountain types who doesn't want to talk to anyone he doesn't know.  Basically, no chance in hell he would talk to me, but he's happy to share his polenta.   It is still sealed, but isn't it beautiful? Look at those colorful flecks.
So why am I bringing all this polenta? Because Gianluca and I are holding a Rustic Fire Roasted Polenta Gathering Class in Asheville, NC, at the Log Cabin Cooking School!   It will be Wednesday, June 19th from 5:30-9:00 pm, $45.

If you come you'll get to share my one and only bag of special black-market grumpy farmer polenta!  Along with many other kinds.
This is what I wrote about the class, to give you an idea of what to expect: 
Discover polenta, the heart of rustic northern Italian peasant fare,  with Annie Erbsen and Gianluca De Bacco.  Using colorful organic heirloom stone ground polenta and Fontina cheese local to where Annie and Gianluca live in Italy,  as well local WNC ingredients, they will  teach not only traditional Alpine methods of preparing polenta, but also adaptations based on what is easily available in North Carolina.  Cooking over a fire, we will make an appetizer of braised black polenta with gorgonzola, followed by a main course of red polenta with Fontina, mushrooms,  grilled sausage in a summer tomato sauce and special Lamon beans from Veneto, with a side of  fire roasted chard & fresh garden veggies, to be accompanied by earthy red wines from NW Italy.  To end our polenta feast, we will make a Lombardian gluten free amor polenta cake using stone ground pignoletto rosso polenta.
For people who don't eat gluten, this class will be completely gluten free! I don't know how the polentas were milled, so I can't guarantee against miniscule traces, but I'm pretty sensitive and these don't make me sick.  And if you don't have a problem with gluten, well, this is still going to be amazing.
This is what my darling husband Gianluca wrote about this class. Imagine an adorable Italian accent while you read:
That's the main course. Polenta dal pinoletto rosso, polenta dal pinoletto rosso concia, sausages with tomato sauce, beans and mushrooms.
This is the food that we eat when we invite friends to spend a day all together or when we organize a day in someone's cabin up in the Alps that surround the Mont Blanc. We like it because it is a food that creates community. It is also the food that I used to eat during the family gatherings when I was a kid. The beans are typical of the Eastern part of the Italian Alps. My grandfather used to grow the famous Lamon beans in Veneto and ship them to us in Aosta, in the North West of Italy. I think that this was his way to send to my dad some food that could remind him of home.
This is a community food because real polenta is cooked on a fire. Even before we start to boil the water in which we will cook the polenta our house is already filled with guests and everyone is contributing for the success of the dinner. Someone will set the table while someone else will prepare an appetizer made of cheese, cured meat and red wine. Usually a smaller group of people will form around the polenta pot. This is were the most interesting conversation will go on, while taking turn stirring the polenta and slowly drinking a glass of local Torrete wine. I remember that it was strirring a heirloom black polenta that we had the idea to organize this class.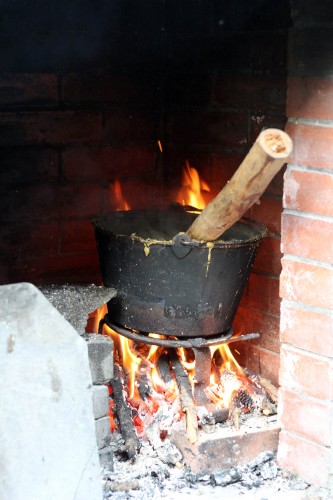 To register,  use the contact form on www.logcabincooking.com saying you want to register, or send an email to barbara.swell@gmail.com.  There are limited spots, so register soon! (note: I've just heard that we are almost sold out! There may be a spot or two left, so get on it if you want to participate)