This week we held our rustic fire roasted polenta gathering class here in Asheville, North Carolina at the Log Cabin Cooking School, and it was a blast and a hoot all rolled together.
We fired up the camp fire and hauled a relatively lightweight little wood cookstove from the 1800's out there, too.  We ate  black polenta squares topped with gorgonzola and caramelized onions, grumpy farmer polenta (an heirloom polenta from Valle d'Aosta grown and milled by a local farmer), morado viola (violet) polenta with Fontina cheese, borlotti bean stew, fire roasted chard, porcini mushrooms, and grilled sausage in a rustic tomato sauce.  All accompanied by generous glasses of Italian wine, of course.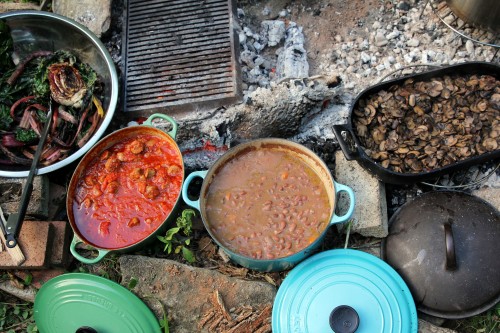 Cooking polenta over a fire is a really fun way to throw a food gathering; it is easy, relatively inexpensive and tastes much better than polenta cooked on a stove top.  When you cook polenta over a fire, it takes on a wonderful smokey flavor, which tends to enhance the layers of flavor in good polenta.  Make a roaring fire, and move some of the hot coals under a metal grill in the fire pit. Put your polenta pot on the grill and start stirring with a wooden spoon.  Easy peasy!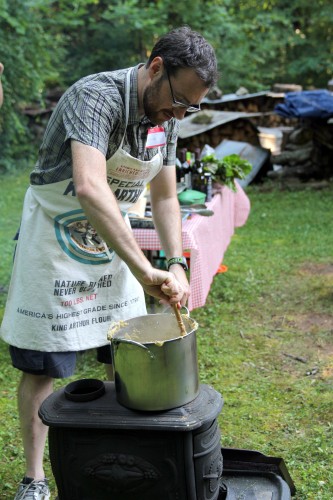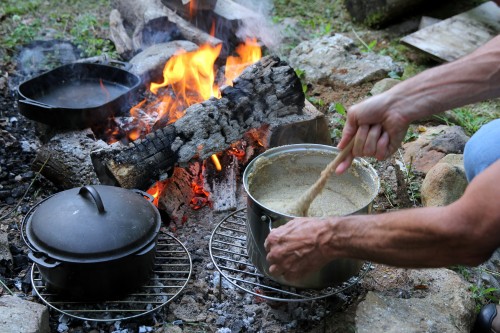 The black polenta squares with gorgonzola were a good appetizer, and I'll tell you how to make them.  The 'recipe', if you can call it that, was given to me from the farmer who sold me his beautiful black polenta.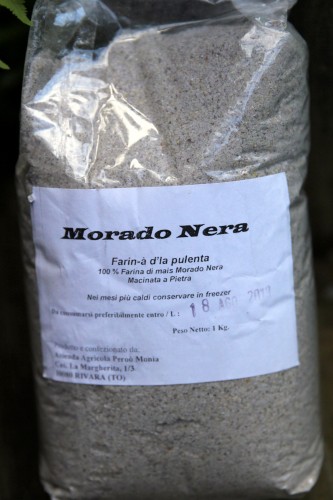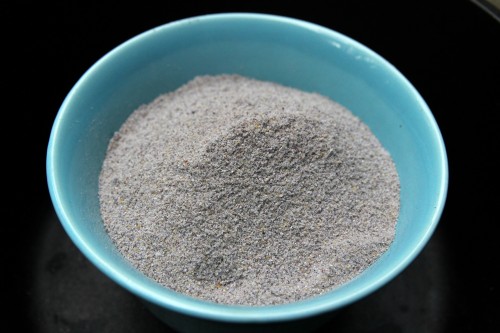 It has a really complex, earthy flavor that I haven't found in any other type of polenta, and gorgonzola really compliments it.  I'm pretty sure you probably can't get your hands on black polenta (morado nera is the corn variety I get), so you can use whatever kind of whole grain polenta you can get your hands on.  Farm & Sparrow Bakery in Asheville, NC mills some beautiful heirloom polenta meal, as does Anson Mills.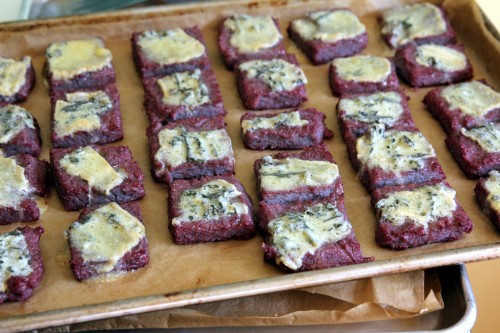 About a pound of polenta will be enough to fill a baking sheet.  Make your polenta (detailed instructions here), but put no more than 3- 3.5 parts water (by weight, not volume!) for every part of polenta, unless you are doing white polenta, which needs more water.  You'll want it to be really thick so that it will hold together later on.  If you use morado nera polenta like I did, you'll notice it turns a gorgeous purple color when you cook it!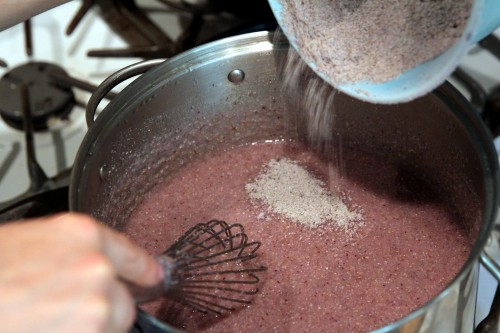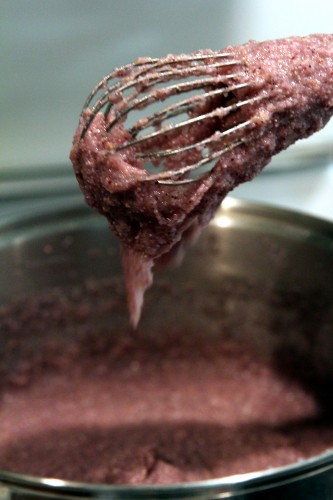 After you have stirred the cooking polenta for about an hour, line a baking sheet with parchment paper, and smear the polenta around.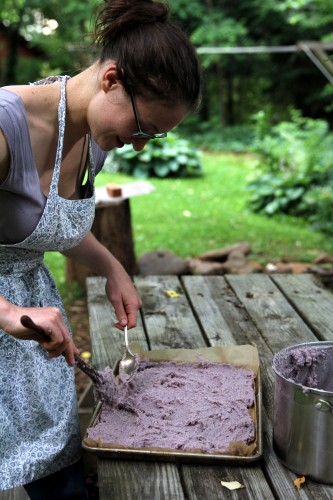 If you stick a sheet of parchment paper on top, it makes it easier to evenly squish the polenta so that it makes an even sheet of polenta. Leave the top piece of parchment on top, and stick the polenta in the fridge until cool or preferably overnight.  If you leave it overnight, it dries out a bit which is actually a good thing.  Cut them up into 1-2 inch squares, and space them out on parchment covered baking sheets, with the dried out side down. Bake in a 375 F oven until they solidify to your satisfaction.  I prefer mine to be somewhat crispy.  Top with thin slices of gorgonzola cheese, or whatever you have on hand.  I put Fontina on some, and they were equally delicious.  Broil in the oven until melted and it starts to turn golden in places. We also topped them with caramelized onions (tutorial in this post), which is in no way traditional Italian, but is incredibly delicious!